A new financial policy for democracy, dignity, and widespread prosperity
Dezernat Zukunft is a non-partisan policy institute that aims to explain and re-think monetary, fiscal, and economic policy in an accessible and coherent way.
Our articles and proposals are aimed at political decision-makers, at academics and the media, and the next generation of thinkers and citizens. With our work we aim to broaden public debates and support an inclusive process of political will formation.
The core values guiding all our work are democracy, dignity, and widespread prosperity.
Our work is underpinned by three convictions;
Human flourishing, rather than the maximisation of profits, capital or growth, constitutes the centre and guiding principle of a good society

Democracy is the highest-ranking organizational principle of a good society

Technocratic institutions and markets are not an end in themselves, but social technologies to be deployed and used in pursuit of democratically chosen ends
Philippa Sigl-Glöckner
Managing Director
Formerly German Ministry of Finance, advisor to the Liberian Finance Minister, World Bank and German Central Bank
MSc Computing Imperial College; BA Philosophy, Politics, Economics, University of Oxford
Forbes 30 under 30; Atlantikbrücke Young Leaders; Handelsblatt Vordenker; Capital 40 under 40
Focus: Fiscal policy, public finance
Dr. Maximilian Krahé
Research Director
Postdoc at the Institute for Socio–Economics at the University of Duisburg-Essen
Former holder of the Chaire SFPI at the Royal Academy of Science, Letters and Fine Arts of Belgium; former senior economist at Vivid Economics, London
Ph.D. in Political Theory and Political Economy, Yale University; MSc Political Theory, LSE; BA Philosophy, Politics, Economics, University of Oxford
Focus: Economic history
Former consultant for the Parliamentary Select Committee investigating Wirecard, analyst at the German Central Bank in New York, Common Eurosystem Pricing Hub
Bachelor of Sciences in Central Banking from the German Central Bank of Applied Sciences, MSc Financial Economics at Maastricht University
Atlantic Dialogues Emerging Leaders Program, US State Department International Visitor Leadership Program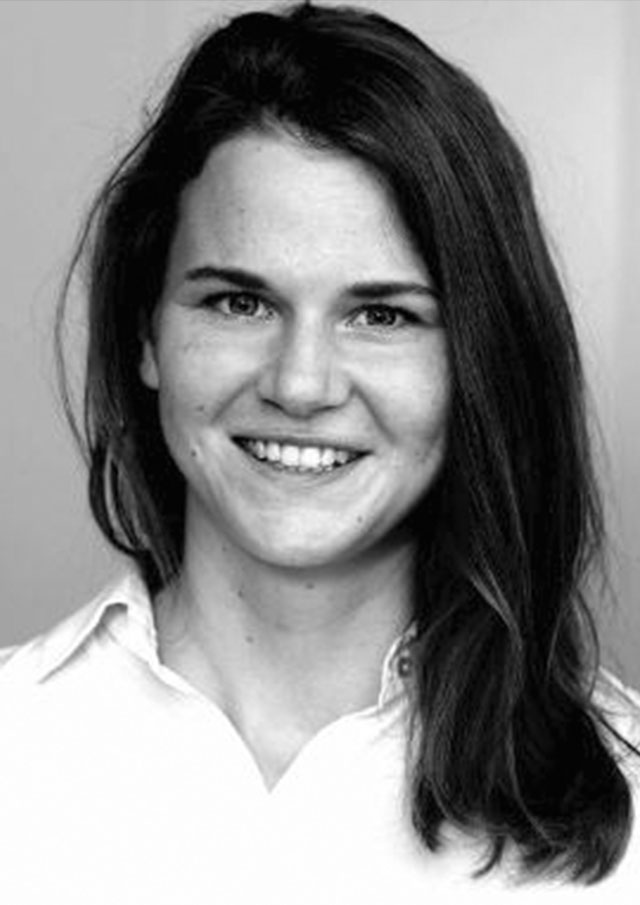 Pola Schneemelcher
Head of Labour Market Policy
and Development
Former policy fellow for European economic policy at the Jacques Delors Centre and Policy Expert at the German Parliament
M.A in Public Policy, Hertie School of Governance, B.A Public Administration University Münster, B.Sc European Studies Universität Twente (NL)
Member of the TaxCOOP 35 under 35 Leaders of the Future in Taxation and
co-organiser of the German French Young Leaders Conference
Focus: Fiscal policy, labour market
Kristina Berthel
Deputy Managing Director
Former senior programme manager at Children for a Better World e.V and Policy Expert at the German Parliament
M.A. in Economics, Law and Social Sciences from the University Erfurt, B.A Political Science and Public Law from the University Regensburg, semester abroad at the University of Helsinki
Maximilian Paleschke
Head of Finances
Doctoral student in Physics, Martin-Luther University Halle-Wittenberg, Bsc and MSc Physics, specialising in nanostructures and spintronics
Student representative of the SFB/TRR 227 Ultrafast Spindynamics of the FU Berlin and the MLU Halle
Nicolas Gassen
Head of Events
B.Sc. Business Administration at Humboldt University Berlin
Former intern at PD - Berater der öffentlichen Hand GmbH and at RITTERWALD Unternehmensberatung GmbH-, semester abroad at the University of Exeter, UK
Leonie Heuer
Assistance to the managing director
M.Sc. Public Economics at the Free University of Berlin; semester abroad at Université de Lausanne
B.Sc. Politics & Economics at the University of Potsdam
Student of Law, Humboldt University Berlin
Gerrit Schröter
Research Assistant
M.A. Student Public Economics at the Freie Universität Berlin; BSc Economics at the FU Berlin; semester abroad at the University of Vienna and the University of Bergen
Former board member of the Network Plural Economics association
Florian Schuster
Research Economist
Doctoral student in Economics at the University of Cologne, studied Economics, Mathematics and Social Sciences at the Universities of Cologne, Madrid and Siegen
Former at the German Economic Institute (IW) and German Central Bank
Researches financial stability and monetary and fiscal policy
Vera Huwe
Research Economist
Doctoral student at the doctoral college "The Political Economy of Inequality" at the University Duisburg-Essen, former at the ZEW-Leibniz Institute for European economic research
Studied Economics at the Universities of Mannheim and Bonn
Researches decarbonisation of the transport sector and Philosophy of Economics
Doctoral Student at the Institute for Finance and Tax Law at the University of Heidelberg in the fields of fiscal law (budget law), constitutional law and European law
Former research assistant in the field of tax law at Clifford Chance Deutschland PartG mbB (Frankfurt)
First law degree, law studies at the Johannes-Gutenberg-University Mainz and the University of Heidelberg (focus on tax law)
BA Student Politics & Economics at the Westfälische Wilhelms University of Münster; Study abroad at the London School of Economics

Associate Researcher of the Research Team of the LSE Economic Society

FiscalFuture Research Team Leader on Public Investments, Fiscal Rules, Austerity & Inflation
Janek Steitz
Policy Fellow
Project manager in the field of economic implications of the energy transition at the Think Tank Agora Energiewende
Formerly consultant at Active Philanthropy and at Ernst & Young in the area of Valuation, Business Modeling & Economics
B.Sc. in Economics University of Münster; M.Sc. in Management (focus on finance) Leipzig Graduate School of Management
Henrika Meyer
Policy Fellow
Researcher at the Mercator Research Institute for Global Commons and Climate Change
M.Sc. in Economics from Erasmus University Rotterdam
Viola Hilbert
Policy Fellow
Doctoral student at the socio-economic panel (SOEP) of the German Institute for Economic Research (DIW) Berlin
Former management and strategy consultant in the public sector
MA in Public Policy, Georgetown University
---
We may not be John Maynard Keynes, but we take the values of dignity, prosperity and democracy seriously. Our current economic system does not. Help us change that. We're looking for people who are willing to think big, dig deep, and polish economic and fiscal policy proposals until they both stand up to the scrutiny of other experts and bring about meaningful change. We see our role as providing you with the best possible support in this process.
We are searching in the following areas:

European financial and monetary policy, labor markets, energy and industrial policy, pensions and social security systems, with a focus on Europe and Germany in each case.

What we expect: You do not need to have a specific background, but should be able to demonstrate significant professional experience - preferably in public administration - or a very good scientific education.

What we offer: We pay according to the collective bargaining agreement of the public sector. Our office is located in Berlin; working from a home office can be arranged on an individual basis. We also welcome applicants from public institutions who are planning a sabbatical.
Interested? Please send us your CV and a letter of application with answers to the following questions
In which research area would you like to work?
What idea would you like to pursue here?
Why do you have the expertise to tackle this topic?
to info@dezernatzukunft.org. We are hiring on an ongoing basis, so feel free to send us your application promptly.
---
Analysts in various employment arrangements including internships.
Internships starting: Autum 2022

Analysts and part-time jobs for students: Currently no vacancies

Requirements: Interest in our topics, first experience in writing texts and scientific analysis/research, In-depth knowledge in a research area relevant to our work
You like to dig deeper and already have strong quantitative or qualitative analytical skills? Perhaps you have a topic that you would particularly like to explore in depth as part of your work with us, or would like to help develop one of our formats/set up a new one? Please send us your CV, a short cover letter and a text written by you to info@dezernatzukunft.org.